Indoor electrical Services
Upgrade Lighting or Put Finishing Touches on a Remodeling Project with Professional Electrical Services
No job is too small
Small upgrades can make a big difference in the energy efficiency and usability of your home.
Appliance Installation
If you are moving or adding a new appliance to your home we can help by installing cords and receptacles for new stoves, dryers, microwaves etc. Need a new 220 volt line for your new dryer? No problem - consider it done.
Ceiling and Attic Fans
Get the air moving in your house with new ceiling or attic fans. Adding a ceiling fan to your room can reduce your heating and cooling bills by keeping the hot and cold air just where you need it.
Installing a thermostatically controlled attic fan helps to keep your attic space cooler in hot weather and reduce moisture levels in winter.
Recessed Lighting
Improve the look of your home with recessed lighting. We install 4", 5", 6" Lights, eyeballs, wall-wash, and halogens in kitchens, basements, family rooms or wherever you need to improve your lighting designs.
Recessed lighting helps a room feel bigger due to the fact that the lights use less visual space. The light cans are embedded into the ceiling and nothing hangs down to interrupt the visual space of the ceiling.
Smoke, CO2 Detectors
NFPA recommends replacing smoke detectors after 10 years. Keep your family safe by getting your home up to date or by installing additional protective measures like a carbon monoxide detector.
Bring Your Home Into the Future with Smart Home Technology
Smart Home Technology is the future of home monitoring and security. Connect your electronics, heating and cooling system, lighting and more, to a secure account that can be accessed on the go from a phone or smart home device. Experience the calmness and convenience that comes with being able to turn lights on as you pull in at night, or alternatively, make sure you turned the lights off or heat down when you have left the house or went to bed.
We work with homes and business in Pennsylvania, from New London to Parkesburg to Kennett Square.
We'll tackle your big projects, too
We help make your home remodeling or addition project a reality. We work neatly and efficiently to remove any old wiring and outlets and install a new system that meets your needs. All our work will meet current codes.
Home and Barn Wiring
We bring old or new barns and homes that need new wiring up to code. We install receptacles where needed, provide barn safe lighting in areas such as horse stalls, wash stalls, isle areas and riding arenas. Exterior lighting is also a must for safety and security.
Repairs
Does your GFI keep popping out? Has your dimmer switch stopped dimming? Has that light gone out for good? We specialize in diagnosing and fixing most of the electrical problems you can think of and a few that you can't. We troubleshoot wiring problems and replace faulty light fixtures too.
Bring your home or barn up to code
Modernize Your Home for Safety and Efficiency
Electric Baseboard Heaters
Improve your home heating with modern baseboard heaters - an efficient and safe way to add warmth to your hard to heat areas. We install toe-kick heaters for under kitchen cabinets and other difficult to heat areas. Additionally we fit 2', 4', 6', 8', and 10' baseboard heaters with individually controlled thermostats. We also install electric hydronic baseboard heaters, which are gel-filled to provide a soft heat.
Whole House Surge Protection
Electrical surges can damage many of today's delicate electrical equipment, such as computers, TVs, and DVD players. While you can buy a surge protector for each piece of equipment, it is more cost-effective for us to install a whole house protector so that you can protect all your electrical equipment throughout your home or office.
100 & 200 Amp Electrical Panel Upgrade
We remove existing old fuse boxes or small circuit breaker panels and install new 100 amp & 200 amp main breaker panels with new circuit breakers, or we can add a subpanel to an existing electric circuit breaker panel.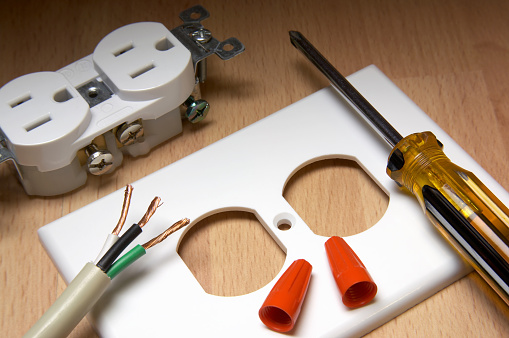 Request a Free Estimate for Your Electrical Project
…or call Josie!
(610) 869-7325